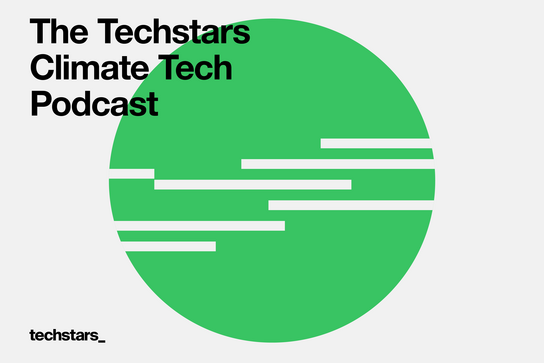 By Cody Simms, Senior Vice President of Climate & Sustainability at Techstars and co-host of the Techstars Climate Tech Podcast
We know that climate change is one of the biggest threats to our planet today. So what do we do about it? 
We turn the threat on its head, and see it as an opportunity for change, for growth, for making an equitable and livable future for all. 
Seeing and seizing these opportunities is exactly what we're talking about on the Techstars Climate Tech Podcast. My co-host Hannah Davis, Program Director of the Techstars Sustainability Accelerator in partnership with The Nature Conservancy, and I are talking with climate and sustainability experts, investors, and founders to better understand the huge transformation that our world is going through. 
Entrepreneurs have always realized the opportunity that change provides. As we move into a sustainable future, we need the fresh perspectives and new ideas that entrepreneurs bring, and we need them everywhere. Because climate change isn't just one enormous, intractable problem, it's a million small problems, and every one of them can be an opportunity — to find a solution, to grow a business, to create a sustainable world. 
At Techstars, we know that entrepreneurs can change the world, and we're here to help them do it.
With the future of our air, water, and land on the line, we need bold solutions to help combat the effects around the world. Join us for a deep dive into the new technologies and innovations that are reshaping our world.
Listen now to the first episode, where I talk with Dr. Kamal Kapadia, Cofounder of Terra.do. about what exactly is going on with our planet.