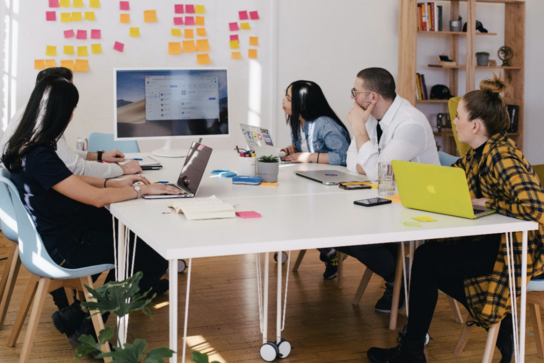 By Aleia Bucci, COO of Lunasonde (Techstars Boston) and former Techstars Associate
As a former Techstars Associate myself, I wanted to share a little bit about who these busy people are and the important role they play in Techstars renowned accelerators. They are short-term hires, usually for the duration of the three-month accelerator, and selected specifically to match the needs of the founders and startups in that accelerator class, but they have an outsized impact on the accelerator experience. 
Through their work, Techstars Associates get a crash course in practical entrepreneurship, and they often go on to start their own company, work at Techstars, or join a company in their accelerator class — as I did.  
Who are Techstars Associates?
Techstars Associates are committed to helping founders throughout Techstars' accelerator programs. Though Associates are only in their roles for the duration of the program, they're a core part of the program team. Each program differs in the number and types of Associates, but generally includes Associates who focus on program operations, design, and business development. Essentially, Associates are a resource available to founders during their time in the program, consulting on and executing strategies, projects, and tactics. 
I joined the most recent Techstars Boston class as the Growth Strategist. Leveraging my background and skill set, I helped founders with strategy, marketing, and research projects. This included planning and launching digital marketing campaigns, SEO strategies, communication strategies, measurement plans, and target market research. Our program also included two Design Associates, a Video Associate, and an Operations Associate. The Design Associates created and improved websites, marketing materials, slide decks, product design, branding, and made the startups look more professional overall. As we had a fully virtual program, our Video Associate provided equipment and guidance to help founders look their best on camera, developed multi-use video assets, animated visualizations, recorded their pitches, and even remotely filmed a live demo. Our Operations Associate ensured everything ran seamlessly, spending time coordinating hundreds of virtual meetings, providing founders with access to program resources and recordings, and coordinating mentor and investor sessions.
How Do Associates and Founders Work Together?
Associates and founders need to quickly develop collaborative and trusting relationships with each other to maximize time for project work. We kicked off the program with each Associate meeting with each founder to get to know each other and discuss needs. From there, we outlined projects to work on together based on our skill sets. However, founders are modifying and shifting business models, target markets, and go-to-market strategies repeatedly throughout the program, which directly impacts the work the Associates are doing. As an Associate, you must be ready to drop or pivot old projects as well as start new ones just as quickly as the founders are pivoting their businesses. As a founder, you must keep Associates updated on any changes that impact project work. Accelerator programs are aptly named and because everything moves so quickly, it's really important to keep lines of communication open. Since the program was fully virtual, we relied heavily on Slack to stay connected and quickly share updates.
To keep up with all the moving pieces, it's also important to track projects and meet frequently as a program team. We managed projects in Asana and set recurring meetings to discuss what we were working on, finding synergies where possible. Our daily morning syncs were used to review our upcoming tasks for the day and share updates from work done the previous day. Weekly, we'd run through the full spectrum of projects for each company, deep-dive into the tactical execution of collaborative projects, and hold team retrospectives to discuss what's working and what's not.
Of the 10 companies in a program, it's common for Associates to work closely with two to three throughout the entirety of the program while completing one-off projects and tasks for others. Additionally, there will likely be one or two companies for whom an Associate's skillset and founders' needs don't match. Though I enjoyed working with nearly every founding team during my time as an Associate, I found that I did my best work when I was able to focus and spend time digging into the founders' problems alongside them.
What Are the Benefits For Founders?
Associates exist to provide value to founders. We function as extra – and sometimes the only – tactical team members for each startup. Associates provide a great opportunity for founders to get a lot of work done quickly. We're available to help for the duration of the program, and because we're program staff, our services are at no cost to founders. Often, the relationships that founders and Associates form during the program continue afterward through full-time employment or consulting work.
What Are the Benefits For an Associate?
Techstars programs are not just accelerators for startups, they're accelerators for Associates as well. As an Associate, you'll significantly advance your career in just three months by gaining exposure to 10 different companies in different stages of growth and — depending on the accelerator — possibly different industries. Because of this, you'll work on a variety of projects that broaden your skill set. Techstars Associates gain considerable exposure to program staff and mentors, providing an unparalleled opportunity to build your network. Best of all, you're part of the Techstars network for life. After the program ends, many Associates join one of the startups full-time while others stay connected through consulting projects. Some Associates are even inspired to start their own entrepreneurship journey post-program.
How Do I Get Involved?
Techstars has accelerator programs operating globally all year long. For Associates, the Techstars Careers page will show all open roles for upcoming programs. For founders, the Techstars Accelerators page provides an overview of the multitude of programs to apply to.